Erotic Tantra
Massage Vienna
Top class, genuine Tantra Erotic Massage -
a blissful touch for your body, mind and soul
November promotion
For any massage of

1.5h

minimum you get

free assisted shower

.
For any massage of

2h

you get

free lymphatic drainage

.
For any

Vip tantric experience

you get

a discount of 50 euro per person

. Read more
If you come to our massage parlour

for the first time

, you get

50% discount

on the third massage received within a month.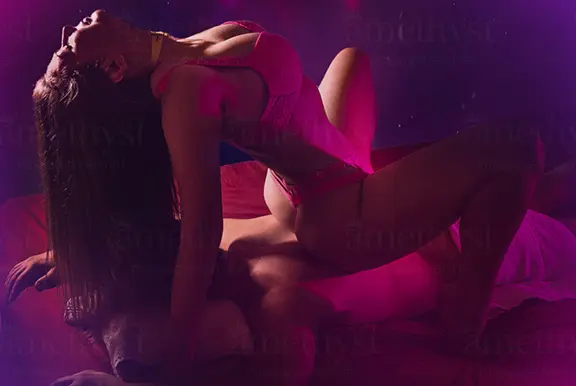 It is time for happiness
We are living such stressful lives, with so much tensions and distress. But life is meant to be beautiful and full of happy moments. Sometimes, all you need is some relaxation and some pleasurable instances, when you can connect to your soul and to your source of joyfulness. Amethyst Tantra erotic massage temple in Vienna is the place where you will enjoy all these and even more. Here you will feel ecstatic.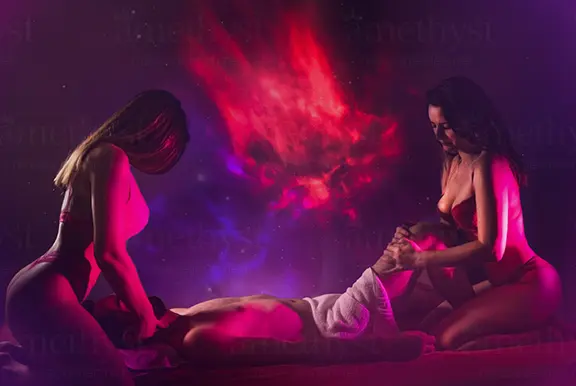 "Thank you so much for your pleasure yesterday evening, I still feel your beautiful body on my skin. The best massage I ever got. And for sure, I will come back after my pelvic muscles training as you taught me yesterday. I will probably come with my girlfriend 🙂. Thanks again, and see - feel you soon."
The benefits of the Amethyst tantra erotic massage in Vienna:
deep relaxation;
freedom disconnection from the daily routine and stress;
opening of your heart to love;
peace of mind;
intense pleasure in your entire body;
becoming aware of the pure erotic energy;
happiness;
unblocking of your energy and chakras;
harmony of body, mind and soul;
a reconnection to your deepest inner nature;
altered states of consciousness.
What characterises a massage therapist at Amethyst?
She knows what she is doing;
She has been specially trained in tantric massage and follows a clear concept;
She is a true tantric;
She lives and breathes tantra, not only during the massage, but as a life philosophy;
She follows a daily spiritual practice;
Through meditation and other techniques, she achieves a mental and emotional harmony that allows her to be present and conscious during the massage;
She massages from the heart;
The massage is full of devotion and love for what is good, true and beautiful;
She is naturally beautiful and well-groomed;
She is sensual, open and witty.
Amethyst Tantra erotic massage Vienna guarantees you:
cleanliness;
discretion and complete privacy;
high class, professional Tantra erotic massage;
welcoming and warm atmosphere;
professional masseuses;
kindness and love;
an amazing state of satisfaction in your body and heart;
peace of mind.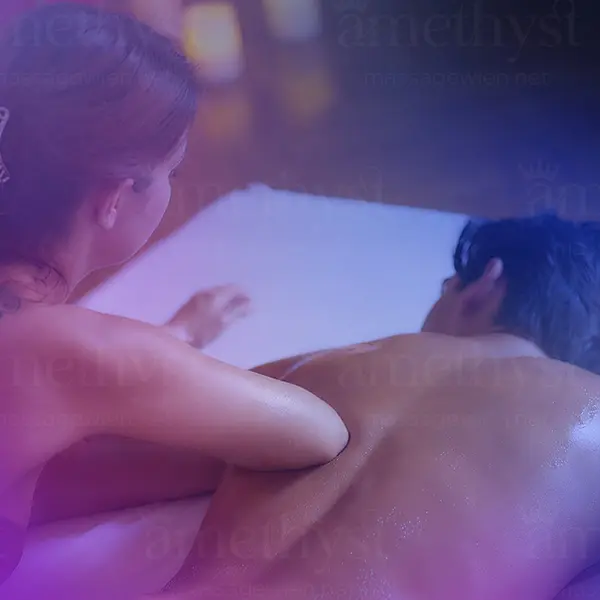 Visit our temple
Close your eyes and enjoy the silky touch of a  warm-hearted woman. Oil wets your skin and tender hands relax every fibre of your body. A thousand words here cannot describe just how good it feels! Simply book your Tantra erotic massage and experience for yourself.